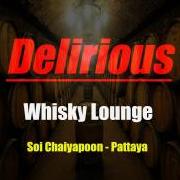 About This Club
Premium Spirits are served here: Single Malt Whisky, Bourbon, Rum, Gin, Vodka etc. in big measures (50ml), Rock Music all Day & Night, Horny Ladyboys, Free Pool,
What's new in this club

Made a couple of visits to Delirious. As good as ever with Herbert steering the ship. I must say Chaiyapoon seemed quite busy compared to other spots.

Thanks for the updates Herberth, they bring back memories of good times. Hope all is good with you, till the next time

Everyone has different tastes for sure Woodie. When I was at Delirious the other night Beauty told me there were 24 girls working-- every direction I looked there was a fine looking young lady I wouldn't mind exploring. My favourite bar in Pattaya and my first stop when I return from Isan.

As far as a well run bar goes, yes Delirious is right up there, but apart from two girls, Palmy and Mona, I dont think the talent is that great.

Spent a few hours in the bar with Soju last night, it appeared busier than the previous two Saturday nights we were there. A guy approached me at one stage and insisted that he had seen me on YouTube and that I had my own channel, no idea who he was mixing me up with. He also asked me what is the best ladyboy bar in Pattaya and I had to reply you are in it. Anways some of the girls frolicking around outside.

@bumblebee : I like your pics of Delirious bar's ladyboys, but I find them a little bit too dark. I don't know what camera you're using but you should try to change your settings to brighter pics. I copied 2 pics of the above post and changed the sttings in photoscape. Here's the result : What do you think about it ? Don't they look younger and/or closer to the real models ?

bbg says he only goes to Soi Pothole for the falafels. I don't know if that is a synonym for something else.

Dropped in to the bar last night on a now rare visit down from the hill to Pattaya. Was in the company of Quietguy and Soju and who should we meet on our arrival but none other than the Jomtien legend and tech geek BBG :) There was also a raucous party opposite, here are some of the girls who crossed my path, including the visiting Atom.

Highly recommend Delirious Bar, QG. I suggest you avoid going there on Wednesday and Friday nights. Send me a PM if you want more clarification.

If you need anyone to show you the way..;) Have a great night Herberth and all the best for the rest of the new year.

Best Wishes to you too @Herberthfor the New Year! I expect to be visiting your bar very soon after all the good things I've heard on here.

Happy new year from the Delirious crew :-) We wish you all good luck and health for the next year.