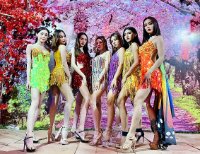 About This Club
Exploring the ladyboys world without frontier
What's new in this club

I had lost track of the video and couldn't find it again. I found another sped-up version on YouTube. 1P.mp4 Here's a couple more videos of Chinese crossdressers simulating exhibitions in empty streets at night. 2P.mp4 3P.mp4

2

I was aware of the Chinese government's restrictions on displaying rugby players on TV, or football (soccer) players with tattoos, as well as singers or TV stars with sporty attitudes or appearances. However, while I had considered posting a comment that linked this ban to the behavior of Chinese wanderers going out at night, I decided to refrain from posting since I found neither documents nor comment on a possible cause and effect relationship. It seems obvious that many CD and sissies enjoy going out at night and use public places to live their transgender life. They also like to post videos of lonely sex in public places. I found videos with a Sissy that lifts her dress in a commercial mall. We then see a caged cock and the sissy impales her ass on a dildo in the public place long enough to shoot a short video. I viewed these short videos as reminiscent of the ones featuring Iranian women cutting their hair, singing "Bella Ciao" in Persian, or dancing in the streets of Tehran. These represent small acts of resistance against the oppressive government. I also read that people who seem to be studients live a double life as @The-Sith described, they look like a normal guy at school but enjoy crossdressing as soon as they can enjoy a bit of privacy. I think I already mentionned the guy going to a military training for 15 days and saying he kept his cock caged. Other sissy men (not sissy whores or CD) seem to be accepted as such as long as they fullfill their responsabilities as married men. These seem to be a mystery to me. I also found Twitter accounts or videos of transgenders who enjoy topping men like Brazilian shemales. I also found transgender individuals working as female dancers in nightclubs, in places far from major cities, such as Sichuan. Last but not least, I found CDse of Chinese ethnicity living in other Asian countries with a different nationality They also crossdress at night and seem to live a social life as men. I'm sorry, I didn't find videos as the one above described. I will see next week end if I can find it.

4

@The-Sith your comments are accurate, but only with the rise of President Xi Jing Ping's rise to power. In the years before that the transgender scene was not repressed, and was accepted by the earlier governments, even allowing transgenders to legally change their sex on their official ids (if they were postop), and legally marry. I feel this led to the spread of acceptance of transgenders in China and think the total numbers in China could eventually surpass those in Thailand, if there is a change in government from Xi Jing Ping's clique.

3

The reason why the trans culture in China has emerged as a CD culture is because it's highly repressive and individualism is highly discouraged. Any deviation is seen as deviant and could turn a mass amount of pressure against the individual. The government actually came out with a policy about 2 years ago against Sissies. Any media and commercials that have men reflected as effeminate are banned. Because men becoming Sissies is banned. Much of this comes from Japanese and Korean influence through boybands and porn. So the culture is underground. And thus a trans woman has to be a CD. Male by day and into her true element at night. Probably a lot of the psychology of harnessing the penis is from the entire "Asia penis small" meme. Japanese particularly are known as having the smallest penises amongst Asians..... and this inferiority complex shows up in porn and fantasies....whether it's 5 black guys gang banging a Japanese woman or the type of porn @Pulci Gorgon is displaying here of caged cocks that end up going as far as recession into the body. And it's likely that Japanese porn gives guidance for the kink side of the behavior. Contrast to Thailand or even now the US where trans culture is more a reflection of people allowing to express their true identity. In the case of Thai ladyboys it's someone born a male being allowed to transition to a female because at their core that's what they are. In China this is not acceptable, nor is it understood. It's deviant. It's a foreign attack on the moral stability of the nation. That's why there are mainstream laws against it. And thus....it is underground. The great experience I had with a girl from Beijing was exactly that. She was part Japanese part Chinese and totally girl. Except when she lived her day time life and went to work she was a man. And hence a trans girl in many other societies was a CD in China. That meant that this girl who was "energetically" a girl....totally submissive and feminine......had a wig and padded inserts for breasts and a totally flat chest. all those sexy Sissies you have displayed here probably live as men....eventhough they look so hot and sexy in their feminine element. this is the ban on Sissy Men: https://www.cbsnews.com/news/china-bans-sissy-men-tv/#:~:text=World-,China orders broadcasters to ban "sissy men" it deems aren,t masculine enough for TV&text=China's government banned effeminate men,society and enforce official morality.

2

Nothing much to review since last week. However, here's a page posted by a Chinese guy to purchase cages in China. This address is intended for use with a smartphone. I couldn't find a corresponding page suitable for use on a personal computer or desktop. BTW, this is a page of Taobao website. Taobao is the Chienese version of Ali Express. I started being tired of watching pics with cock cages, I was on the brink of photo overload. I found more discussion groups showing porn videos and photos. I could find more CD sissies Twitter accounts. It seems that many sissies are occasional crossdressers or crossdressers to go to public places and shoot photos or videos of their cocks and cages. I can't measure how widespread this phenomenon is, but I can easily find social media accounts with photos that claim it in a certain way. regretfully, many of these accounts don't post contacts and ask for money to provide more videos.

3

Oh ! It seems not so many BMs enjoyed the warm milk tea. Too many sensible people probably. I think I have covered all the topic now except a last point. I was told all the sissies are men, almost macho men but I still have a controversy in my mind since I saw quite a few pics of sissy men crossdressing. One of them uses time when his roommates are out to crossdress and shoot photos of his sex. The favorite dress seems to be white stockings (followed by black stockings too). Most of the crossdressers seem to be young. One of the sissy men posted he had to go for a 14 days military training. He decided to keep his cage on his cock and hope not to be caught. He ended up in the section for misfit crew. I had no news of him today. Here are a few more photos. To sum it up, 娘娘 (Niang niang) pr the English word sissy seems to be used in China for all kind of people wearing a chastity cage. The most surprising is that many seem to be ordinary men who hide they are gay or want to crossdress. I checked twitter accounts when I could. Many are CD Sissies. They wear a cage and like to crossdress. They enjoy going out at night and shoot insane photos or videos. It seems to be their reaction against the Chienese repression against effeminate men. Then they go back home and return to the ordinary life of a normal citizen. Many of them post they are not looking for meetings (no offline dating). Last but not least, their twiiter pages are full of reposting, particularly pics of Japanese sissies or CD. PS : just a reminder about Chinese words as I found them : ladyboy, TS, CD (used in English) 娘娘腔 : sissy 变性人: transexual (seldom used) 假女孩 : fake girl, pseudo girl or femboy 假妈妈 : fake mother (transgender) 伪妈妈 : pseudo mother I also found videos of "TS sissies" hanging in the streets at night. The word may be combined with others.

2

Here is the video. I managed to convert it into an MP4 format accepted by LBR. I hope you won't be disturbed by the watermarks of the freeware I used. Viewer discretion is advised, even an informed audience might find the content off-putting. MTcf.mp4 If you go to China, don't forget to order warm tea with milk from your room service.

2

I don't know. I haven't gone into that level of detail, but I'm following the reasoning of what I've read on Telegram. I haven't met the sissies I described. The live in China. I have never met anyone wearing a cage too. This is like a fantasy at my stage. I just felt like sharing facts that surprised me. I have seen very low prices in china, so I'm not sirprised one can find cheaper and cheaper. Here's something I discovered this week. Chinese sissies also use a urethral catheter. I'm not sure of the purpose but I found a discussion tonight of a guy who complained he couldn't pee with his cage on and someone advised him to use such a cathter. Beware, the video is likely to be shocking. 0.MP4 Tommorrow, I will (try to) post another strange video. It lasts more than 9 minutes and I have problems to convert and upload it to the forum.

2

Doubtful anyone here is feminizing in this manner but just in case that particular seller has a rating of 44% and I've never seen a rating that low,

2

Thanks for your advice. Here is a more feminizing product in the Thai website following this link. BTW, I had chatted about lazada with the Malaysian sissy. For unkown reasons, she didn't trust lazada. I found out the mother company is based in Singapore and they have several branch companies around Asia. It looks like a serious company. Here's a more complete collection in the Malaysian website.

2

If anyone is interested, in Thailand you can purchase a Male Chastity Sex Discreet Sissy Femboy Cock Device Penis Rings With 3 Size Chastity Cage on Lazada

2

So here's the point : all these sissies are men or boy. I don't mean they are "girls trapped in a man's body", they are males and pretend to live as males and even to have a girlfriend or get married. The Chinese/Malaisian with whom I had my first contact told me that was the case for the majority of them (He/she goes to school dressed as a man but pretends to sometimes go out dressed as a girl). The young young Chienese guy told me he was looking for a girlfriend in spite of starting caging his sex and using dildos to get an orgasm. In the discussion, he told me he refused to be treated as a "sub" though. I doubted he would find a GF to go with him after what he told me about Chinese girls but he sees himself as a 100 % guy. Anotherguy posted a link to his Twitter account. When I noticed a photo of a girl in a dress with painted nails, I inquired about it. He told me he was a normal guy going to work with his painted nails. His girlfriend let him crossdress and seems to enjoy it. I told him how much I was surprised by his habits, but most surprising is that his girlfriend enjoy him as he is. She manipulates the dildo to make him cum. Another lonely guy uses a shoe to beat his cage and masturbate. He seems to be fairly successfull. I saw a video but couldn't upload it. Here's a pic. In the second pic, the same guy (with another painted tatoo) also tried a device to shrink his balls. Back to married Chinese sissy men (or sissy men with a GF), dom Chinese ladies seem to be harsh with their boyfriend. I found the video in Telegram. 1.mp4 Last but not least for tonight, I'd like to share the following video with you. What are your thoughts on it ? Do you perceive it as tragic or comedic ? As far as I understood, the guy had worn a cage for more than 12 months and he wants to normally use his dick but is struggling against a technical problem. What you can do : watch the video till the 3:00 mark, then stop and try to guess how it will end. Have fun. 8.mp4

3

Yesterday, I was taken by surprise by Bumblebee's post. Initially, I had intended to explore a different theme, but I had to respond to his excellent post, which provides engaging material to delve into. Here are some additional photos on the same theme of cages. Here is a first or second stage cage in a plastic shell. This sissy guy managed to shrink his cock after using smaller and smaller cages during a few months. Once a sissy has a small cock he/she will use a cage with a fake cock. Understand it if you can. Last but not least, they also use cages with urethral catheter

2

Thank you for sharing these pictures. In fact, I was thinking about posting one of them if I could locate it within the discussion group. These photos represent the typical appearance of Chinese sissy ladyboys as I have observed. In your picture #3, it's evident that this is a sissy crossdresser with a wig. Upon closer examination of the other pictures, it becomes clear that the first one is also a crossdresser, as is the #5. It's uncertain what #2 is (probably a femboy), and #4's top and face are not visible. You may have noticed the various types of locks in your pictures. The last one illustrates another prevalent trend among Chinese sissies: participating in BDSM games as the victim, BTW, I find this pic very exciting. Back to the discussion group I visited, 90% of the messages deal with cages, where to purchase them, or hygiene concerns on this topic. it's not been easy to make contacts in PM with members but It's been worth the effort. One is an occasional transvestite of Chinese ethnicity living in Malaysia while the other is a young Chinese guy living in the PRC. Both of them were looking for simple advises on cages, particularly where to purchase them from. China has a few websites where they can find good quality cages at low prices. (I also used these contacts in an attempt to address my lingering questions following my analysis of Chinese ladyboysTwitter accounts.) Both told me they wanted to use a cage for their personal pleasure. They have no boyfriend nor dominant guy to be their key master but they follow on a personal point of view the sissy process that consists in putting a cage on their sex and use dildos to have anal pleasure and try to have orgasm. The pic below describes more or less what they purchased. They actually purchased bigger cages. Here is the range of cages the group was discussing about as I started reading posts. But the most frequently posted pic in the group is this one : You'll observe fairly traditional cages (ranging from 1 to 4) that resemble those worn by married men in Europe as a symbol and promise of fidelity to their wives. The number 6 is closed to the models used in Bumblebee's pics (mainly pic #4). this model starts shrinking fairly severely the sissy's cock. Number 9 and 10 are called tablet (平板吗) because of their flat shape. One of the first words I learnt when reading the discussion was "negative lock". The Malaisian sissy explained me "negative lock is a chastity cage where the entire penis goes into your own body". Here's what it can look like. Here are what the sissies' games consist in. It sometimes aim at "shrinking" their penis till it becomes as small as a clitoris. Some people like ladyboys with big cocks, other prefer small cocks that look like a clito, particularly exciting when well epilated. Next post (maybe not tommorrow, I will try to bring more unexpected stuff regarding gender and sexuality.

2

I have noticed quite a few of these Chinese sissies on Twitter over the years. Definitely the cock cage seems to be a requirement. Quite hot in a way, wouldn't it be interesting to see a podium full of ladyboys wearing them :)

4

I'm concerned that my upcoming post might not meet your expectations since I will primarily focus on Chinese ladyboys. My blog had slipped from my attention for a while, especially after I took security measures due to some troublemakers from PY to LBR. I won't dwell on that episode, but I had made the decision to secure my blog nonetheless. Recently, I revisited it and observed that a few Twitter accounts had been deleted or suspended. I subsequently conducted a thorough review of the blog and removed links to pages containing deleted or suspended accounts. During this process, I came across new accounts of Chinese ladyboys, resulting in a larger number of accounts in the lists compared to before I removed outdated accounts. I continued with this activity when I stumbled upon a profile that had no listed contacts. Typically, I disregard such profiles, but this particular one included a Telegram link. Initially, I anticipated being able to chat with a ladyboy via Telegram. However, to my surprise, I discovered it led to a discussion group focused on Chinese ladyboys porn videos. A few days later, someone posted a link to another discussion group. This is how I can view so many Chinese ladyboys porn videos. Then someone posted another link to a Chinese sissies discussion group. I had hoped to connect with a different category of Chinese ladyboys, but reality proved to be more intricate. This was a discussion group oriented on Chinese sissies. I hope to find more time to elaborate on what I've discovered in this last discussion group.

1

sweet! expanding from Thailand had opened up a new world of gradiations of gender and sexuality. I'm waiting for the next post of this well researched and interesting thread @Pulci Gorgon In America we have Traps.... as well as NBs (Non Binaries) and various forms of Trans. Which are different from Sissies and CDs. There are some people from the south that call everything either Snow or Ice. but the most advanced natives in the north have 56 different names for different types of snow and ice. covid has forced us to expand our boundaries and play in different gradiations of ice and snow!

1

About 2 years ago I had found a couple of porn videos with Chinese ladyboys. I was captivated by their beauty but also their poise in the room either they are sweat bottom or aggressive top (the word for top in Chinese is translated by attack in in English). I then started looking for Chinese ladyboys and hoped to contact them. I opened a book with Twiiter profiles and found more information. Nevertheless, despite amassing over 300 profiles in my collection at a faster rate than my Vietnamese counterparts, I find this figure to be rather modest in the face of China's vast population. It's akin to having just 24 contacts from Vietnam. 2.mp4 The fact is that Twitter proposes « people you (I) might like » or « to follow » but after opening less than 10 profiles, already known profiles come back. The more I have profiles, the more old profiles come back, then I must wait for a week or two to find new profiles more easily. I posted about the subject in a video thread as well as in another thread of comments. Meanwhile, I found a new profile in an Asian country : a femboy called him/herself a sissy. I was intrigued at first and discovered that what set this femboy/ladyboy apart was the chastity cage that covered his/her penis. I posted about the subject in another thread. The Sith introduced the concept of trap I had never hear (or read about) before but traps seem to be a phenomenom restricted to the USA. However, I found a whole litterature about sissies. To make long stories short, I had found in a couple of Twitters that sissies are betas (inferior males) that can't be allowed to have pleasure with their cock. That's wh, mistresses or other dominants make them wear a chastity cage. Then sissies may have pleasure only when sucking an « alpha male » cock or when being shagged (bottoming). Reactions had been fairly negative but I kept on finding twitter accounts once in a while. I found as many profiles of sissies as profiles of mistresses or sissy schools. I also found twitter accounts that explained that white males are betas destined to be sissies fucked by big black cocks. I had initiated searches using the word sissy to find submissive femboys or unknown ladyboys. I had been fairly lucky to find 2 adds websites with crossdressers, femboys, ladyboys and trangengenders. Unfortunately, the majority were in the USA, South America or England and I could not carry out a sufficiently satisfactory search in my country. All I found were mainly trannies in their 60s whom I had already seen in transvestite dating sites 20 years ago. How did I find Chinese sissies ? What are their goals and what do they perform ? This is what I'm going to try to explain in this off-topic thread. Upon revisiting the other thread, I observed that specific posts had stirred controversies over the depicted sissies. My thread aims at portraying reality as I found it on the web without any intention of aligning them with anyone's definition in any manner.

3

Soju's post as well as my answer were moved to this thread : http://www.ladyboyreview.com/index.php?/topic/9879-questions-and-comments-on-chinese-ladyboys-videos/&do=findComment&comment=215336&_rid=10606 E3NM.mp4

Thank you for your comment. In fact, I initiated this thread when I stumbled upon Chinese ladyboy videos on this website. There were three series, and I had shared almost all of them. Later, I came across videos on Twitter, and occasionally, I posted new ones. While I could have posted hundreds of short videos, the quality was quite low. Recently, I discovered a link to a discussion group on Telegram, and subsequently, a few more links. I haven't yet found exactly what I was searching for (an easy way to contact Chinese ladyboys in p4p) , but I've come across some incredible content, even though it slightly deviates from my original topic. These videos may appear somewhat meaningless, but they hold personal significance for me. The most recent ones are videos I managed to upload from Telegram, which I then remixed to make them suitable for posting on the forum. The other two videos were copied from Telegram videos I had come across.