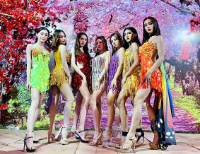 About This Club
Exploring the ladyboys world without frontier
What's new in this club

I am sorry to hear about your father and hope you can see him again in life and have parting words such as I never got to say to mine to thank him and tell him how much I loved him and would miss him.

I had programmed a stop in Banten province since this is where Botimu lives. After 2 of her Twitter accounts had been suspended, I had found a new one with a completely different name. Sadly, this account was suspended a couple of weeks before I departed and I hadn't noted her contact (wa number). I had hoped till the last day to find a new one. Among 7 ladyboys, one was top only, one was over 36 years old and only one could be reached with WhatsApp. I messaged Lilian and received no answer. I hadn't found hotels at a reasonable price but for a bit more money, I went to a comfortable place place with a swimming pool complex, silent rooms, a big bar and restaurants with non spicy food (wow !). I took care of my fare train to my next destination found a travel agency to get an airline ticket I couldn't purchase in Internet and enjoyed the swimming pool. Before reaching Cilegon I had written a long paragraph to complain once again of road transports but preferred to delete it. Here are some pics. Arriving at the ferry harbour Good bye Sumatra Good afternoon Java ... 2 days later, one more issue with the taxi driver. Late, wreckless driving and arrivin at the station to see the train departing ... without me. This is my conclusion : never trust Indonesians in road transports. They are unable to respect a schedule and will aways find an excuse to mess it up. This gave me time to make pics of trains at the station. In the first train to my first change In the train to Jakarta Back in Cilegon, as I settled into my room, I came across an email from my brother. Shockingly, my father was in a coma and expected to pass away within the next 48 hours. Miraculously, he regained consciousness on the day he was predicted to succumb. Nevertheless, this news hasn't made my travels any more serene. I want to express my gratitude to BMs for their likes. I am aware that my posts may be becoming somewhat monotonous, and I sincerely hope to share more engaging content next time. In the meantime, here's a new game for BMs who haven't visited Jakarta recently. How would you describe the city in terms of its buildings, streets, housing, ladyboys etc.? Please don't hesitate to share your thoughts. It's simply to compare with my own observations.

As mentioned earlier, I decided to extend my stay in Medan to spend time with Hyuna. Initially, my plan was to continue visiting cities in Sumatra to meet ladyboys moving southeast towards Java. However, I soon realized that this would consume too much time. Consequently, I opted to skip three cities —Pekanbaru, Jambi, and Palembang— where the chances of concluding a meeting with a ladyboy seemed slim. The next question that arose was the means of transportation. I considered taking a boat, but there were no boats available from the coast near Medan to Lampung. Airline tickets were expensive, requiring a detour through Jakarta before reaching Bandar Lampung. This seemed impractical. Eventually, I found a bus company that could take me there in 36 hours at an affordable price. The buses appeared comfortable and safe. To cut a long story short, upon entering the bus, I realized it was fully occupied. Coaches were out of service, and the promised safety belts were nowhere to be found. The bus drivers spent their time driving and smoking. To make matters worse, instead of arriving in Bandar Lampung at the scheduled 6:20 AM, I reached there after midnight. The 36-hour journey lasted 54 hours—akin to a road movie narrating a nightmare. I had underestimated distances and time. Perhaps I will share more details or add photos later. The only positive note is that my taxi in Bandar Lampung cost me 21,000 IDR for a 10 km journey, which is remarkably cheap (less than a dollar and a half). BANDAR LAMPUNG Once in my hotel, I managed to contact ladyboys using addresses from my blog. Unfortunately, I had only six contacts, and some had no messenger or did not respond. By chance, I had found one in the afternoon before departing. Ocha responded positively. Regrettably, at 1:30 AM, I informed her that I was too exhausted to meet and suggested postponing until the next day, which she accepted. On the next day, I messaged her after having breakfast but received no reply. I then sought a travel agency to find transport to reach Java and spent the afternoon chilling out in the city. From my hotel room, the city appeared inviting, with beautiful hills surrounding nearby neighborhoods. Unfortunately, when heading to the train station, I found myself in a neighborhood that I would describe as a 'Lampuristhan,' with shops selling Palestinian flags, women in hijabs, men in djellabas, a large mosque, and an unusual atmosphere around the train station. Nevertheless, I had a pleasant afternoon. I messaged Ocha several times without a response. Meanwhile, two ladyboys offered me prices at 1 million IDR (more than 2,000 THB) or 800,000 IDR (about 1,800 THB). Hyuna commented that this is a usual price for ladyboys with silicone breasts. However, I declined. Ocha replied after 9 PM while I was busy looking for a hotel in my next destination. I responded when I finished, but I stopped chatting at 11:30 PM since I thought it was getting late. Olca seemed to agree and didn't appear very interested in finalizing a date. Right across the street from my hotel, the main 2 shops that replace 7/11 in Indonesia : Alphamart and Indomaret (maret, not market). I saw many 7/11 in Malaysia but never in Indonesia.

More details about Hyuna. From the beginning, she caught my eye, and we got along well. She came well dressed and I found her prettier than on her pics. She managed to create an illusion, making me believe she spoke English well. When we finally broke the ice, I realized she was using Google Translate quickly, and her English was quite poor. She handled situations with composure. She first insisted to take care of my cock under the shower, what I hadn't experienced since special whorehouses in Spain in the mid 2000s. She wanted to clean mycockhead with toothpaste (amazing). But as soon as we started in bed, she wasn't shy to give deep French kiss (I think I already posted it in the above post) and to blow me both strongly and smoothly. I admit I have been tired since I came back from Vietnam last year and feared to cope with an issue for the first time in my life. Alll I can say is that Hyuna has been my best doctor. She also played with her telephone to make videos while we were having sex. On the next morning, I noticed she had posted videos in her twitter account. Icouldn't copy all of them but here's the one with the BJ. I am sorry, but the male performer falls short of conventional beauty standards. HYU11.mp4 On the second day, she came dressed in red as depicted in the above post. I requested her presence for a third session and inquired if she occasionally wore hijabs. Upon her affirmative response, I asked if she could bring a hijab for a photoshoot. A boastful idiot had posted in a forum that there were no ladyboy in IOndonesia except in Jakarta. He ad even added "one won't find a ladyboy with a hijab and a small cock far from Jakarta, so I arranged for my photoshoot session. Hyuna didn't understand at first but I explained her. She understood that was some kind of 'Arabic porn'. I couldn't make a photo of her nude body with the hijab but we've done some funny pics (and videos). Enjoy. Here's the pic I made with the logo of the forum on my phone (That has nothing to do with PY except poor moderation, clique and you know everything ...) I blackened the logo on my phone screen. Last but not least, the video. HYU32.mp4 Hyuna doesn't reach the standards of beauty of Thai ladyboys but I wish I had found such a great sex performer either in Pattaya or in Bangkok. We quickly developed a strong rapport, despite her not being obligated to do so. She accompanied me via messaging throughout my ordeal of a journey across Sumatra. Additionally, she provided valuable advice on ladyboys in other cities and the vocabulary used in their markets. She also commented prices. She sometimes go to Java or to Batam to look for customers although she's from Medan. If you happen to travel to these places you know someone you can contact.

It took me nearly 24 hours to acquire a SIM card and be able to withdraw money normally from ATMs. Regarding the ladyboys, I had stored Twitter URLs in a blog and categorized them based n their look and also their ability to post kinky pics or videos. I had four ladyboys rated 4 stars, including one exclusively top, fifteen rated 3 stars, twenty-one rated 2 stars, and two rated 1 star or crossdresser. My primary target was Zilqi, whose picturess I had already posted. I initially reached out to the 4-star experts, and the first responses came quickly. Pink Queen responded promptly. She requested payment using a WhatsApp payment system. I informed her that I prefer to pay in the room, but she responded with a series of love messages. The situation wasn't much better with Caca. She initially asked for a distance payment upfront, which I declined, insisting on paying in the room. However, half an hour before our scheduled meeting, I realized I had lost my passport. I canceled the date and returned to the phone shop to search for it. I'll spare you the details of this story, but regrettably, I lost Caca's trust. While I can't blame her for being rude, finding my passport had become my top priority. Perhaps I have been lucky since I probably avoided another potential scam. Since Zilqi only responded in Indonesian and messaged slowly, I began contacting experts rated 3 stars. Some of them had slow-paced conversations, especially those communicating only in Indonesian. One of them, Hyuna, seemed more eager to reach a conclusion. Hyuna arrived to my hotel before midnight. I realize it's hard to write a review when meeting a ladyboy like this. I must say she looks quite better than on her pics. Initially, she asked me for 650,000 Rupiah but I bargained a price at 500,000 (about 1,100 THB) that she accepted. Once in the room, she gave me a perfect girlfriend experience (DFK, BBBJ, great fucking). She even made videos that she posted in her Twitter account . Shame on me, I'm not a porn performer. She never counted time and stayed more than an hour and half. So, eventually, she left the hotel with more than 650,000 ruppiah she had initially requested. As I kept on looking for ladyboys, I had more contacts but never concluded a date with another one. As Zilqi wouldn't answer, I decided to reinvite Hyuna 2 days later to my hotel. I heeded The_Sith's advice and opted to stay with this ladyboy I had a good rapport with, considering I stuck with the one I got along with well and who didn't cost me much, rather than seeking out new ones. Hyuna came back 2 days later dressed in red. I must interrupt my posting. I don't want to miss my shuttle who has to pick me up in my hotel lobby. To be followed ...

I chose Medan because it's relatively close to Kuala Lumpur. Initially, my plan was to take a ferry boat from Georgetown and cross the Melaka Strait, but airline companies had largely replaced the boat business. Although Air Asia offered a cheap ticket, I ended up paying more than double the price for my luggage, and even an additional fee for a 1kg overweight when checking in. I arrived just a few minutes before departure, as the flight lasted less than an hour (I departed at 13:30 and landed at 13:25). Immigration and customs checks were lengthier compared to countries like Thailand, Vietnam, or Malaysia, but not excessively so. In the terminal, I faced difficulty withdrawing money from the ATM. One of my banks blocked my debit card as soon as it detected an attempt to withdraw money in Indonesia. I managed to withdraw some cash with my other bank card but had to use my debit card to pay for my train ticket. Later, I struggled to find a shop to purchase a SIM card, so I had to go to the city to buy one. Phone shops initially refused to sell me a SIM card, insisting I could only get one if I purchased a brand new phone, and obtaining a phone number would take three days. Consequently, I had to head to my hotel without cash and without a phone. At a coffee shop with Wi-Fi, I asked for directions. The guy recommended a street shop where I could get a SIM card. However, I was told they could only top up my phone credit there, and I had to visit a shop called Grapari shop in Carrefour mall to buy a Telkomsel SIM card. These stressful incidents had consequences the next day, as I had to bring my passport and allow shopkeepers to take photos in order to be permitted to purchase a SIM card. Medan turned out to be like any other Asian city, but the province is less developed than Thailand, Malaysia, or even Vietnam. I visited three malls/commercial centers with many clothing shops and fast-food restaurants but fewer electronics and telecommunication appliances than in other countries I've visited. Here are a few pictures taken in the streets, and other places The train riding to the city looked modern but was riding very slowly. I fell asleep after taking this photo. A safety guard controlling the trafic in front of a bank building. In other streets 'safety guards' look like tramps and stop the trafic to help people. 100 $ in rupiahs = 1.5 million rupiahs A street hooker on a boulevard, she stood not far from an area where, according to my research, ladyboys were said to be working at night. Upon later investigation, I found no evidence of such activity. She was the sole street hooker I encountered in Medan and she was ugly. A typical car used by Medan citizens. Streets are full of cars similar to this one or even larger. A van I used as a Baht bus. I don't know how they call these specific vans. They are very usel and cheap (7,000 rupiah = 0.41 €, 0.45 US$, or 16 THB Once in my room, I couldn't connect to LBR. Eventually, the connection displayed a message in Indonesian. In summary, it stated that LBR is a porn site, and access to such sites is blocked. So, I loaded a browser with a VPN to be able to log in to LBR.

Thanks for your comment Rxpharm. Before answering, I'd like to apologize for the poor quality of the text. I wrote it in a note application in my phone then sent it to my PC and posted it from a bus station. With the pressure of time I made no correction. KL is just a city in Malaysia. I don't think I will have time to visit more cities this year. It was my 'plan B' in case Indonesia turned up to be shitty. I doidn't think of my budget but saw 'Mina Mendes' seemed interested by a couple of young and athletic guys. It may sound strange, I enjoyed her class but never thought I would be attracted. When I left KL, I met a Chinese lady in a restaurant in the airport. I chatted about China. She's from Shanghai and she gave me good vibes about China. On the next day, in Medan, I met a country fellow with his Cambodian girlfriend. He also gave positive information about China. But I had negative comments about Chinese ladyboys in my chat with Chinese sissy men. One of them told me he had experienced rude people and not really interesting. Anyway, he's happy with his wife. I believe I miss key informations to go and play with Chinese ladyboys. For now, I fear a great failure. Of course, this month, my mind is with Indonesian warias.

Thanks for reporting, we don't hear much about Malaysia. Interesting to see some of the differences between now and 9 years ago. That is more than a lifetime for most P4p lb workers. I think you may have missed an opportunity with the cabaret lbs, as I think some of them would be willing to do p4p - but as you are on a budget, they may have asked outside of your limit. One of these days when travel permits, you need to visit China. I feel there could be a large number of p4p lbs there - but the limiting factor would be language. You would have to know Chinese, or if the new Samsung AI phones are available next year, they will be able to do real time translation during a phone call.

Kuala Lumpur I had visited KL Lumpur 9 years ago. The scene has never been alike BKK or Pattaya but I had enjoyed finding street freelancers, particularly my first Vietnamese ladyboys, a sissy and a hot femboy. Since then, I had read Rxpharm's posts in other forums dealing with police crackdowns. I wasn't overly worried since there had already been crackdowns against Thai ladyboys in the early 2010s and I had been satisfied with what I had found : a small scene for very few mongers. I had seen a few profiles in Twitter but they were totally delirious. One of them asked me for 3,000 MYR. Apart from the absence of Foreign ladyboys, I could sum it up in one sentence. Almost nothing changed after nine years, for instance, I saw the same ladyboys but 9 years older. Here's a couple of ladyboys in Bukit Bintang. I saw 6 or 7 old ladyboys sitting at a restaurant table near the massage shops area but couldn't shot pics. This lady is a massage girl. She proposed me a happy ending massage. Chow Kit Initially, I hadn't planned to go to Chow Kit. CK is a bad neighborhood that a local Muslim politician wants to rehabilitate not to eradicate prostitution but to fight against social poverty and cultural underdevelopment. Here too, what changes everything is that the ladyboys have not changed. They are just 9 years older. I used my big camera with the 300mm lens to try to capture their image from afar. I don't know about this one she's a new one or she's the one I had shot inba blurred photo in 2014. This one proposed me a BJ pour 70 MYR, that I about 530 THB. 9 years ago, I had shagged a young ladyboy for 50 MYR (500 THB) at that time but she had given me a bad time to try to get more money. . On the way back, I sat in the monorail next to a queer I managed to photograph her reflection in the window. Last but not least, I had a look at the blue boy cabaret. 'Mina Mendes' and her mates were finishing their show. I was happy to come back tonmy nearby hotel with a few good photos. Enjoy. I forgot to mention this building in Jln P.Ramlee. This used to be a great night club full of freelancer girls. Now, it looks like a haunted house.

I didn't look for my post, but I had posted that islamic laws apply only in one province and laws might be different from a province to another. The place with fundamentalism is Aceh. Here, they told me it's a distorted information by the BBC. I'm actually in the North Sumatra province in Medan. Anyway, well done guys. You found the country. After Kuala Lumpur, I just took a short hop to Medan (less than an hour by plane) and here I am on the ground. I consider you've won the game. I'm leaving on a trip for 2 days today. I'm not sure if I'll have time to review Kuala Lumpur before departing.

I mustn't be a great mind then. Well done, you both found out that I'm in Indonesia. However, Indonesia is vast. I had criticized Sulawesi as being too remote and must add that I couldn't find many ladyboys there (there would be much to say about warias in Sulawesi but I would be off-topic). Although Bali is a highly touristic area with well-established ladyboys bars (or bars with ladyboys), I had criticized Bali as not being my preferred destination. I see Denpasar as a Pattaya for Aussies and the rest of the island is a destination for luxury tourism that can cost an arm and a leg.Moreover, flight costs were too high. After reading my posts, I've just found out I had mentioned the city I visited and the ladyboy at the top of my to-do list. I use a VPN since LBR is censored by the Indonesian Internet as a porn site. Hopefully I will still be able to post pics in my next post.

KL is a a big Southeast Asian Hub. Jeddah flies there. It's a place that many guys say they should see for themselves. I did but was not impressed as the cheapish hotels are not very nice. Final destination? I'll guess Bali. Sulawesi is more off the beaten track which is your style but perhaps too remote and the punishment for gay sex in Indonesia is death. Harsh. Bali is an easier place to meet Indonesian ladyboys who go there to hook up with foreigners. Local Balinese authorities are unlikely to enforce sodomy laws.

Based on you being in KL and having mentioned here in the board your FINAL destination this year, I would have to go with the next IDN city with ladyboys: BALI. You could also just go to BATAM in Indonesia that has them. But you never mentioned Batam. You gave the impression that you "might not be able to find ladyboys." If you go to Bali you will easily find a few. The question is their attractiveness and the price... Anyway if it's not Bali I give up or you give another clue...

OMG. The first answer is exact. How did you guess ? Very clever, unfortunately inaccurate. Nevertheless, your response is impressive. Please try again.

OK I'll play. here's what we know: PG flying from JEDDAH to STOPOVER Destination ("a couple days") From STOPOVER Destination he will fly to FINAL Destination PG has mentioned the STOPOVER destination at LBR but "rarely" PG mentioned the FINAL Destination at LBR "a few times this year" The FINAL Destination has BEACHES PG is flying SAUDIA and was intent on a cheap fare. I recall PG posting earlier this year about INDONESIAN sissies. I used the Board's search function and it showed him planning to go to SULAWESI which definitely has beaches. So my guess is SULAWESI is the FINAL Destination To keep the fare as low as possible, to go from Jeddah to Sulawesi he would want to stay on SAUDIA, Jakarta being the closest you could get. So the STOPOVER Destination would be Jakarta from where PG will take a domestic flight to one of Sulawesi's airports. How did I do?

The Airbus glided silently through the night until lights emerged beneath the left wing. We could see the shore of the Red Sea illuminated by the lights of Jeddah city. After a shallow bank to the left, the Airbus made its final approach over the city. From my seat, Jeddah resembled a city in an American western state, or the suburbs of BKK or HCMC. After landing, I would take another flight. Why did I fly to Jeddah? It's a new hub for Saudia Airlines, not primarily linked to the Muslim pilgrim business. Another reason is that prices with other airlines were too high. Last year, I paid 1,000 euros for my first post-covid trip (to Vietnam) but expected cheaper return ticket prices to Saigon. Flights to BKK were also too expensive. And what would I do in BKK? Rush to PY and deal with the PY clique? So, on this occasion, I took advantage of a budget-friendly flight, and Jeddah became my new gateway to the Orient. I won't disclose my initial destination in this post; try guessing. It's a city I've visited a few times during various trips, but I rarely mentioned it on LBR. I spent a couple of days there before heading to my final destination. I won't reveal my ultimate goal in this post either; that's for you to guess as well. I'll simply mention that I talked about the country a few times this year. It's a place I've never been to before, and I don't recall reading any reviews about it on LBR. This year, I shared my perspective on traveler's strategies to assist newbies, but I acknowledge that my approach is not robust. I'm not thoroughly prepared, unfamiliar with the local scene, and anticipate encountering challenges and issues in some cities. Come what may, I'm on holiday. If I can't find ladyboys, I'll explore the beaches or seek out sightseeing (and delete or stop the TR), regardless, I'm on vacation. To avoid being stressed by the situation or my obligation to report, I'll wait for a few days before reviewing what's essential in my trip and avoid overly detailed explanations (though you can ask questions). I hoped I made it clear : wanderlust serendipity, means that I hope that luck and my small experience might counterbalance the difficulties on the field as well as my poor preparation. I'm traveling hoping to be lucky with my cheap charlie's methods and airline budget on an unknown field. So, here's the initial challenge. To encourage my first review, I'd like: At least one member to hazard a guess and post exactly where I landed after Jeddah. Either the same member or another one to venture a guess on the destination of my next landing. On your keyboards, mates !

I'm sorry I have been too busy to go on the game "rate this ladyboy". I will be busy for a few more weeks. I appreciate returns and comments and will hopefully restart later.

What did I have to do ? Copy only her beautiful pics or only her recent ones. Time is cruel for ladyboys as fa as beauty is concerned.

I don't know why I felt like selecting only selfies of this ladyboy who seem to work as a business attendant.

I came across a discussion in PY where guys were still pondering over the concept of ladyboyfriendly hotels in Vietnam. I haven't found time to comment for a month or so but made it this week end. Trời đất oy ! Individuals are still contemplating lists of ladyboyfriendly hotels in BKK or Saigon, and they've earned themselves the "advanced member" titles.. I'd rather grant them the title of advanced idiots. Vietnam is not fundamentally different from Thailand for us Europeans or American farangs. I believe that people's minds have been too heavily influenced by the PY state of mind. While these guys were posting, I had already shared most of my latest travel report from Vietnam, and I was still over there in Saigon. I'm curious where they heard about issues with ladyboys in hotels. I also wonder where this 'JustSomeGuy' read about ladyboysfriendly hotels around the main tourist party area and that ladyboys know LB friendly ST hotel in the area. Just like the 'true or fake' program on television, here's what's true in Vietnam. P4P remains prohibited in Vietnam and police sometimes operates crackdowns. Just a reminder: Thailand signed the international convention to abolish prostitution, and you see how it goes in Thailand. Since 2013, the Vietnamese police opted for a softer strategy to struggle against prostitution. As mentioned in my TR, bars now strictly enforce a rule prohibiting their employees from leaving the premises with customers they are supposed to entertain. While this rule was occasionally overlooked before COVID, I observed a rigorous implementation by bar managers in 2022. I haven't encountered any issues inviting a ladyboy to my hotel room, whether in major cities or provincial towns. During my initial visit to Vietnam, I invited a girl to my hotel in Hanoi, which explicitly stated that guests were not permitted. However, the night guards did not object to her entry. During my last trip in 2022, even when I had concerns about arranging meetings in my hotel, I encountered no issues. In Da Nang where I intended to welcome a ladyboy in the lobby, but she arrived directly at my room, and I am unsure how she managed it at the reception. Additionally, I utilized ST hotels situated throughout the city, not confined to the main tourist areas, as detailed in my thread 'Trip report for a virtual trip.' By my last trip's conclusion, I had met ladyboys four times in ST hotels (including one in a city in the Delta) and nine times in my hotel or serviced apartment. (Yes, it's wiser to be discerning if you lack confidence in hotels). PY not only censors BMs they have banned since the moderators dislike them but also allow uninformed members to cultivate false notions based on their own ignorance. They somehow prevent these members from sharing the truth. It appears that one PY member had come across my TRs but was either hesitant to delve into them in detail or afraid to address them accurately. This member not only distorted the truth but failed to cite his sources. He could have provided a link or mentioned me, allowing Kris80 to trace the source, but he chose not to. What's disheartening for PY members is that they are still debating the existence of ladyboyfriendly hotels in Vietnam, while the real concern is the transformation of the ladyboy market itself. As mentioned in my previous post, only a handful of ladyboys still offer their services in the p4p market, and most of them claim prices 50% higher than ladyboys in Thailand. PY members are unaware of their whereabouts and how to contact them 'behind the walls'. They are also unaware of the challenges within the local market or how to navigate them. Too bad for them. When comparing PY and VN, we are left to question where the underdevelopment lies, especially intellectual underdevelopment.