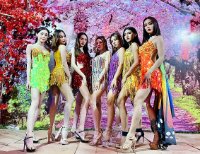 About This Club
Exploring the ladyboys world without frontier
What's new in this club

No, not there until middle of May.

It's not a question of aligning on the way I think. I don't presume to know how this vlogger should run their blog, but I do believe that they could be more successful if they expressed a more positive and nuanced point of view. Focusing solely on negative stereotypes and biases can turn off potential viewers who are looking for more thoughtful and nuanced content. This vlogger's behavior starts with what could be called "bigoted" (French-bashing and anti-communism). Then, his anti-communism becomes stronger as he uses it to belittle everything Vietnamese. It ends up being stereotypical. He sees mafia in the city of Nha Trang for the sole reason that he saw Russian inscriptions at the entrance of some restaurants in the city. Finally, he denigrates a ferry solely because it is supposed to be "communist," even though it is operated by a private Vietnamese businessperson who takes their own risks maybe more than in the UK. In the second video's concluding moments, he gazed out at a new landscape marked by emptiness and communism. As he scans the scenery, a familiar street caught my eye - the very same street I had traveled on during my first visit to Vietnam, heading in the opposite direction on a bus. I had witnessed local ladyboys boarding the bus to sell their food. I then realized that these ladyboys are living and working in this city. What would bald and bankrupt have said if he had witnessed the same ladies and ladyboys working with them ?

I am waiting to hear your take on things in VN, Woodie. I might be mistaken, but I thought you went there or are there?

I dont think he sets out to do a complete travelogue when he does these videos. He has his own take on things which obviously does not align with the way you think it should be done. A bit tought to expect someone to do an in depth documentary of Vietnam on one trip experience.

Here's my critical review of the travel videos documenting a trip through Vietnam. I question its accuracy and portrayal of Vietnamese culture and society. I watched half of the first video then skipped sequences from the middle till the end of the second video. (28 + 41 = 1 hour 9 minutes). https://www.youtube.com/watch?v=M-X1m4dGE9Y https://www.youtube.com/watch?v=M-X1m4dGE9Y In the first video, the travel vlogger starts by asking "how much" in English with a heavy accent, as if assuming that a Vietnamese person would understand. It would have been more appropriate to learn to say "bán bao nhiêu?" His mispronunciation of Nha Trang in the second video was also jarring, as it should actually be pronounced "Nia Tchang." In the end of the second video, he struggled with the name of the ferry company and appeared unaware of what he was saying. I found the words he was attempting to pronounce were clearly visible on the next ferry. "công ty tnhh một thành viên" means a limited liability company, completely the opposite of the communist ferry he claims to be traveling on. The travel vlogger's fixation on communism and sectarianism was concerning, akin to Putin's anti-Western stance. We have discussed the attitudes of English travelers in both European and Asian countries, and this vlogger exemplifies a chauvinistic and narrow-minded mindset. While I have previously criticized other vloggers, such as Edward Sweeney, it is important to acknowledge that Sweeney delved deeper into the essence of things, rather than relying on value judgments. The video series begins in Hanoi, but fails to showcase much of the city beyond a friendly scooter driver. While there are temples related to military monuments, there are also many other more beautiful temples to visit, such as those at the top of Ba Na hills, in Đà Lạt, or those visited by Strocube. The vlogger disparages Nha Trang, despite its reputation as a pleasant city with potential for future development (Nha Trang is likely to hold some pleasant surprises in the years to come.) . Similarly, he only shows a T-shirt shop in HCMC, and arrives in Cần Thơ without highlighting the city's beauty. There is also some uncertainty as to whether the suspension bridge was truly financed by the Chinese. Inaccuracies and cultural insensitivity detract from the overall quality of the production, and the rushed treatment of certain locations such as Hue is disappointing. The only truly authentic moments in the video are the train sequences, which provide an honest glimpse into Vietnamese transportation. (However, I'd recommend to travel by train rather than by bus for medium distances in Vietnam. Overall, apart from glimpses of certain neighborhoods that may not be featured in travel agency brochures, there is little of interest in these videos. Edit : forget about communism if you go to Vietnam. You'd be surprised to see that veterans of armies having fought against the Việt Cộng

Just look up youtube and Bald and Bankrupt with the title I quoted in my post

The ladyboy scene seems to be fairly restricted in Bali. My search is likely to be biased since I used Twitter, but I have found only 14 warias in Bali, while I found 20 in Medan, 106 in Jakarta and close surburbs (not included satelite cities around Jakarta). I had also found informations about prices at 300,000 rupiah ba few years before covid but can't confirm the price since I was told only 1.5 million for ST. It seems that waria prefer LT (3 million). I might really surprised by such prices increases. It reminds me of Vietnam but worse. My feeling is that waria don't trust or avoid contacts with foreigners and the few who do quote high prices. Last but not least, I omitted to mention airfare prices. These are 21 to 40 % higher when flying to Medan (Reaching Kuala Lumpur then reaching Medan with Air Asia) rather than Bangkok. Going to Jakarta costs about 25 % more and to Denpasar (Bali) 62 to 68 % more. I think that Bali can be a great destination for Aussies and New Zealanders, and maybe for expats living in Asia, but I can't find advantages for myself. Maybe, when I am older and have time to stay longer than a month, I will go and visit Indonesia and stay in Sulawesi without looking for warias. Sulawesi seems to be full of great beach hotels à 15 $ a night (perhaps with food included) and prices went down after covid.

Just watched a Bald and Bankrupt video on Vietnam. He travelled with two others from Hanoi to Saigon with a side trip to Laos, on motorbikes and a train. He did acknowledge the influence of the guys from Top Gear who did the trip on motorbikes. As usual he did a great job. He seems to have a way of conversing with people even though they may not speak English. A very good communicator. Worth watching. I did want to see a bit more of Saigon but there you go. He did not hold back on the brutality of the western nations who had tried to control Vietnam over the years. France, the US etc. The video was called Vietnam: The Nation that would not submit VN

I would recommend Bali as the destination of choice for the first time Indonesian monger. Sex workers from all over Indonesia go to Bali to find customers. Bali is safe; a good place to learn the ropes. The ladyboy street action is on Dhyana Pura (officially known as Jalan Camplung Tanduk), a gay street in Seminyak. The Kuta-Legian-Seminyak area is quite popular with Aussies. Many extremely late night clubs. Went their three times from 2005-2009. Good food, good vibe. Back then if you knew what you were doing you could have sex for 300,000 rupiah. I'm sure asking prices are quite a bit higher now. I met a few nice ladyboys. My favorite was from Sulawesi. A friend met one of the street from Sumatra and brought her back to Thailand and they lived together for a few years.

Since last week, I have been feeling somewhat discouraged to continue my research. I have been able to identify over 350 warias and have found a few interesting articles on the Indonesian scene(s). It takes finding the right perspective to truly understand how things work. For instance, there is no single law that applies throughout the country, but rather, law enforcement is delegated to the provinces. It is common to read about waria persecution in Sumatra, but the island has several provinces, and Aceh province, for example, enforces Sharia law, making it a hostile environment for warias, while the province of Medan has an interesting ladyboys community. Additionally, warias can be found in many cities in Java, particularly in the largest one, Jakarta. The police crackdowns are being carried out more smoothly, and lawsuits are being filed based on legal grounds that differ from province to province. Unfortunately, I have not received any responses to my contact requests in Java (except for one negative response asking me not to bother them). I don't want to exhaust my contact list. I have finally received two price offers (one in Jakarta and one in Makassar, Sulawesi): LT at 3 million Rupiahs (equivalent to 6,800 baht) and ST at 1.5 million Rupiahs (equivalent to 3,400 baht, and in some cases, there are additional down payments required to cover taxi or hotel expenses). Warias can be found throughout most of the western part of the country (From Central Sumatra to Bali, rarely in West Papua, in Balipapan (3 provinces of Borneo and Sulawesi). I could share my list of Twitter accounts in a discrete way if someone is willing to take over and delve deeper into the topic. However, I would probably do this through an unpolished blog to avoid exploitation by PY." Despite police crackdowns, warias can still be found on the streets at night, particularly in Jakarta. I even came across what seems to be a brothel in a hotel where warias (or gays) had worked, although I am uncertain about the document's date. Those warias still working on the streets are mostly aging and unappealing.

Well, there you have it. I've shared with you my previous TRs. Those who have taken the time to read through them, or even just skimmed them, will undoubtedly comprehend that my journey to Vietnam after COVID-19 was anything but happenstance. As I've reiterated on multiple occasions, I embarked on my first adventure with scant knowledge, and the more ladyboys I discovered, the more I sought out information and potential connections. Nothing was left to chance. While my most recent journey proved to be more challenging than the last, I refuse to believe that I am on the decline. If anything, the difficulties I encountered only served to reinforce my determination. To be honest, if I had waited until the end of my trip, or even a few weeks thereafter, to begin posting my TR, I may have glossed over some of the more difficult moments. However, given my ambitious goals, which included finding the best deals possible and venturing into areas with little confirmed information, setbacks were inevitable. Yet, I see these setbacks as stepping stones to eventual success. I'd rather delve into a new list of ladyboys in northern Vietnam than contend with the exorbitant prices demanded by ladyboys in Pattaya or Bangkok. In 2018, some ladyboys were already asking for as much as two million, and it's hard to say whether there are even more of them in 2022 or 2023. Moreover, dealing with ladyboys who vanish from messaging platforms has been a real headache. While the COVID crisis has led to a surge of new ladyboys, they often disappear just as quickly, and the fact that I haven't been able to meet with these ladyboys (and that ladyboys couldn't meet customers) for three years means that many have disappeared without my knowledge. I must admit that some criticisms have been annoying me lately. Sure, there are probably better options out there when it comes to spending over a hundred dollars on a single ladyboy. However, that's not my primary objective to spend so much money. Furthermore, those who claim that my efforts have been in vain fail to grasp the extent of my research. It went beyond just gathering data from Twitter; I also spent a considerable amount of time reading and cross-referencing information from various forums as well as experimenting with different methods on the ground before the COVID crisis to ensure that my strategy was correct. I think I've shared the whole story, leaving out only the details that could leak to PY finding out. Now, it's time for me to resume my research outside of monger forums and update my information. After my last trip, I took a break from my research and started cleaning up my files and messaging. I banned some unreliable contacts, like Quynh Phuong, who claimed not to understand my appointment request while actively seeking clients on a forum. I also banned my beloved partner, Daisy, who refused to visit me in HCMC and preferred to wait for potential clients (who would pay 2 million) on the street. Recently, I went looking for a missing ladyboy in a Vietnamese and got help from a Vietnamese monger. Now, I'm ready to get back to work.

2021 I will attempt to summarize my recollections of 2021 in a single post. Although I began a second trip report for a virtualtrip, I struggled to find noteworthy events to recount. In January 2021, I continued to collect profiles, but soon became worried as fewer and fewer ladyboys posted ads. Although most of them were jobless, they began to disappear from the scene. I remembered losing 40% of them in 2019 and feared that even more would vanish, forcing me to seek out new profiles every week. After realizing that Trinh and a few other ladyboys had removed me from their contact lists, I expanded my search efforts. I created a forum specifically for Vietnamese clients, hoping to find valuable reviews and information, but to no avail. Despite signing up, the Vietnamese mongers rarely posted any reviews or relevant information, and those who did only made vague statements about seeking ladyboys. The only noteworthy contribution came from an Americano-Vietnamese client, who shared a couple of stories about being scammed or robbed by ladyboys. It dawned on me that I had the largest network of ladyboys contacts in Vietnam, and that relying on Vietnamese clients for assistance was not feasible. Trinh Then a Thai-Vietnamese guy created a Telegram group to exchange information. This guy was probably the Vietnamese client who knows the most ladyboys after me, though he was far from my numbers. He's the only monger who posted reviews dealing with ladyboys in a forum, which helped me find new contacts. However, after about a month and a half, I discovered that I could no longer connect to the discussion group. I'm not sure what happened exactly, but it seems that people not posting in the group were automatically excluded since the number of participants is limited. This is also what may have happened with Trinh's and other ladyboys' contacts lists. More and more Vietnamese mongers complained about price increases, describing ladyboys posting as "the industry". While I'm not sure if ladyboys live in one group gathered in some kind of union, I noticed a few of them had a fairly rude behavior with clients who didn't pay them for a visit. In one of the ad websites I was using, I found older ladyboys suddenly posting ads and trying to find customers at 2 million VND for a ST. I identified them as ladyboys who had posted their ads on "international escorts" or "shemale escorts" websites. Discussions were terribly aggressive, and they were so rude and aggressive that I blacklisted them. I had to find new methods of discovering ads after the forum, which I called "Forum B," ceased to function. It reached 80,000 ads and would no longer accept new ads. It's a shame since some ladyboys would post the same ad 10 to 20 times, obscuring other ladyboys' ads. They effectively killed the goose that lays golden eggs. I also began exploring three Facebook groups created by ladyboys where ladyboys looking for friends and guests would post. While I was able to add a few more profiles, they weren't of the best quality. As the Covid-19 situation in Europe improved, my work kept me busy and I didn't have much time to think about changing my strategy. Despite this, I was able to find more ladyboys profiles on Twitter with relative ease. I have to confess that I stopped verifying profiles at the end of 2020 out of fear of disturbing the ladyboys and getting banned from their contacts, since I still didn't know why I had been "unfriended" from contact lists. I continued with this routine until the end of 2022. Meanwhile, the Covid-19 situation in Vietnam worsened while it improved in Europe. In July 2021, the Vietnamese government imposed a lockdown on the HCM province (called the blocus). I posted a thread dealing with the event in my club, but what was strange was that I didn't see life returning to normal even after the blocus was lifted. Some ladyboys posted documents showing they had been vaccinated, but I was never informed when the army withdrew from the HCM province or when bars and non-essential businesses reopened. I only learned in October that bars had reopened clandestinely under police control. The bars that had let their staff go out with customers before remained closed, and those that were allowed to open had strict guidelines in place to prevent staff from going out with customers. Lastly, I found  information on when travellers would be allowed to return to Vietnam in April 2022, 3 weeks after the effective date. I recall one additional detail: during the lockdown, ladyboys continued to post ads. Some of them began offering video chats or videos. I tried it once and paid for the price of a ST (400 K) but received only a few poor-quality videos in return. I'm not sure what other ladyboys did during the lockdown. It appears that some of them were able to visit places and meet customers in "business as usual" mode, while many others chose to cut costs by discontinuing their phone line subscriptions, resulting in the loss of their messenger accounts and contacts. The situation was quite perplexing. 2022 As I kept on searching twitter for new ladyboys profiles, I would always come back to the same ones in the area of HCMC. However, I started finding more profiles in the delta of Mekong during the Summer 2022 and in cities around Hanoi in September 2022. This was already time to get prepared for a new trip.

District 8 I decided to highlight District 8 as it is one of the most sought-after areas in Ho Chi Minh City. While 19 ladyboyss advertised their services in the district, a few of the most intriguing ones prefer to meet in District 4. Despite my familiarity with District 8, upon studying the map, I realized that my knowledge of the area was limited to only a portion of it. I can see a long shape district separated in 3 parts by the double canal (Kenh Doi), and I have been in the eastern part of it. My visit in 2019 to meet with Ngoc My Mino served as a chance to explore further. I opted for the municipal bus, which set me back only 6,000 dong (equivalent to 0.25 US dollars) and took me to an avenue that was flanked by a lush green alleyway. The neighborhood was devoid of the usual traffic snarls and featured a variety of short time hotels. Despite our late start, Ngoc My and I managed to find a suitable location to conduct business. It was only recently that I discovered that the hotel where we had met was actually located in Binh Hung, a suburban district of Binh Chanh, rather than District 8. This revelation served as a reminder that I still have much to learn about the city. Although I have no photos from my visit and cannot recall the exact location of the hotel, I do remember strolling along this street with Ngoc My on that memorable day. This is the end of my virtual trip report from November 2020, which I wrote during the second lockdown when we had a curfew. I've made some edits, but the details are based on my knowledge and experiences from that time. I hope my style changes, thanks to using ChatGPT to improve my English, didn't confuse anyone. I plan to add a few more posts to cover 2021 and the changes that have happened in 2022.

District 1 Initially, my intention was simply to append a post elucidating the minor markers incorporated in D1, which can be found three posts above the current one. However, I deemed it unjust to solely remark on D10 without providing my thoughts on other regions that have a higher concentration of ladyboys. It is my opinion that any individual seeking sexual tourism in HCM would hasten towards D1, as it is renowned for being the hub of Red Light Districts. Nevertheless, I assert that such a decision could be a misstep in HCMC as I knew it in 2019. (I had to change my opinion in 2022 though) Little Japan The area adjacent to the first blocks of Lê Thanh Tôn, commonly referred to as Little Japan, is a bustling pedestrian area that boasts a plethora of massage shops, Japanese night bars, and restaurants frequented by Japanese and Korean tourists. Although I have explored the area, I have not availed myself of any massage services. However, I once chanced upon a passable massage girl for a Thai masage in a street around Little Japan. It is worth noting that Thai massage in Vietnam are typically expensive and offer subpar quality. Numerous videos can be found on YouTube, showcasing the vibrant atmosphere and unique offerings of Little Japan, such as the ones linked below: https://www.youtube.com/watch?v=yq0cLJ7_3_4 https://www.youtube.com/watch?v=Yne24Tg4AQM However, the most reliable expert on Little Japan would undoubtedly be a Japanese vlogger, whose insights can be found in the following video: https://www.youtube.com/watch?v=tJXFLTgSUNc From what I have read, sex offered in massage shops in the area are also expensive and of poor quality. Customers are typically required to pay for a massage, and then led to a room with other clients, where they can negotiate for additional services. Getting a blowjob for 800 K is considered fortunate, as most girls only offer a basic special that is only a handjob. Another potential service is WC, which is ass licking. However, it is important to note that I am not an expert in these matters. Đường Bùi Viện Bui Vien Street is renowned as the preeminent red light district in HCMC, and it also has a reputation for attracting drug dealers. Tourists should be aware that it's not uncommon to encounter trouble, especially since a busy police station is located in the middle of the street. In my opinion, Bui Vien Street is similar to Khao San Road in Bangkok. Many westerners visit the area to enjoy a drink, but they often encounter massage girls and waitresses who promise them a good time in a bar. However, these bars do not offer the option to barfine a girl, and visitors should be cautious. If you're lucky, you might spot a ladyboy. BTW, I did when watching Edward Sweeney's video in Bui Vien. In my Vietnamese forum post, Ngoc Trinh suggested that I not ask too many questions, but she did provide me with the address of a bar where ladyboys like to dance during their free time, which could be an opportunity to hook up. The difficulty in Bui Vien is that you cannot barfine a ladyboy, as barfines do not exist in Vietnam. Ngoc Trinh told me that she could offer me a short time during her working hours, but I'm hesitant to seek a bar gurl in the area, as I fear she may be in a rush and cut the short time even shorter. Ladyboys from all over HCMC come to Bui Vien to have fun in discos, but this doesn't mean they are looking for customers, especially when they are having fun with their friends in the street. A few other ladyboys working in different jobs than bar girls also frequent the area, possibly looking for customers. It's important to know who they are. Ladyboyss in Bui Vien are incredibly beautiful and could easily be mistaken for girlls. Although I have seen a few in person, I've also seen their pictures on social media. Edit 2023 : although I confirm the general impression posted in 2020, I can add I hadn't seen so many ladyboyas In Bui Vien as the last time I went there. I can add they weren't as pretty as I believed (a few of the orettiest grew old or fat) and they requested for 2 million to go to a nearby ST hotel. I met with ladyboys in a perpendicular street (Đường Đỗ Quang Đẩu). The first one is a bartender who provided me with a poor quality sex service during a home visit (See My Trinh in my 2022 TR). The second is Anna, whom I have already mentioned in my 2022 TR. Finally, there is a group of models who gather in Đường Phạm Ngũ Lão near the Ngã năm Cống Quỳnh roundabout, waiting for modeling contracts. They also accept clients from TS-dating for 2 million VND. Night bars Between Bui Vien and Little Japan, there are a couple of streets I previously mentioned in one of my threads. I had discovered Senorita Bar on Pasteur street, but the bar has since relocated to a new address. To locate the new address, head to the old location and walk down the street a little bit. Turn into the next street, as indicated on the picture, where you will see more bars on both your left and right. To find the new location of Senorita Bar, keep walking till you see the bar on your left. This is the area where real night bars are situated. Here, girls hope to earn a bit of money, most of them being students or having another job. They receive no wage, but instead a commission on ladies' drinks. It's important to note that each bar has its own set of rules, so it's best to be informed before making a visit. In 2018, a ladyboy had worked at #60 Pasteur, which was mentioned on the internet. Last year, I came across ladyboys in two different bars and spotted a couple more in other bars along the 90-100 block of Pasteur. In 2019, a bar girl (ladyboy) had accepted to come to my hotel. In 2020, I had discovered even more bars with ladyboys. I've made connections with some of them, who advised me that the best way to meet them is to visit their bar. Through Twitter, I even found a ladyboy who indicated her bar in a photo on her profile. Bars were closed as non essential businesses in April 2020. They reopened once they got closed during the "blocus" in 2021. Many bars have not reopened. They first reopen clandestinely (but probably with police waivers). Whatever the conditions, in 2022 ladyboys told me it's prohibited to go out with a customer as I did in 2019. PS : during the walk, as you turn right, you will see the main location with the most ladyboys working in a bar that is Lust bar.

District 4 I was surprised to see District 4 at the top of the list. I have only one explaination to find it with a high « density » of ladyboys. District 4 has a small surface and it's contiguous to district 1. Ladyboys accomated in D4 are workers in bars and restaurants in D1. So far I knew D4 as the place where I boarded the boat that brought me to Vung Tau. I won't be long commenting. I have nothing else to say. Edit 2023 : It seems that many ladyboys have deserted District 4 since the end of 2020, since they seem not to work any longer in District 1. Even ladyboys working or spending time in District 1 seem to have moved to outlying districts to find affordable rentals.

It's better to know what you're getting into and be familiar with the scene before you decide to go. So far, I'm not counting pros and cons, I'm just digging the web to find informations. As for Vietnam, I keep informations confidential since I don't know whether they are reliable or not. Make your own search.

The question remaining, is it worth it? Seem more enforcement by federal and local authorities. Are the cost comparative, i.e., p4p, hotels, transportation, food, etc. Whats the attitude, GFE or pure business and clock watchers? I now its very dependent, but what's the typical expectations, as compared to TH.

As I messed it up with RLD, I looked for more information dealing with the subject. There used to be large RLDs in Indonesian cities but the government decided to shut down red light districts all over the country. In Surabaya, "Dolly" (the popular red-light district Gang Dolly) was shut down in June 2014. It was reputed as the largest RLD in South East Asia. Bars, karaoke and other businesses had to close (read here). Ladyboys still freelance in a cemetery called Kembang Kuning. More details in Coconuts.co . In Jakarta, the largest RLD was in Kalijodo (also called KCD as Kalijodo fucking center). That was a dull area sometimes described by mongers as a "slum", "infamous" or "unsafe". The police asked people to leave the area then the whole shanty town was bullozed in February 2016. More details : Kalijodo as it was before crack down destruction of Kalijodo Kalijodo now

Focus on a few districts District 10 Adding more details on District 10, it comes as no surprise that it has the highest concentration of ladyboys and "density index". Its reputation as the preferred location for ladyboys meetings has become commonplace. The district itself is relatively quiet, with only a few heavily trafficked avenues, and its smaller streets provide a pleasant walking experience. The area is abundant with neighborhoods filled with low-rise buildings, pagodas, parks, restaurants, and even a swimming pool. In the heart of the district lies an area that could be deemed a red-light district, with a myriad of small hotels for short-time room rentals. This is a favored location for ladyboys-client meetings. Ladyboys typically request their clients to book a room and wait for them inside. It's essential not to book a room unless the ladyboy is present or has announced her arrival within "5 minutes." Additionally, it's customary for the client to provide condoms for the date. (The habit has been slowly changing since the covid). Never pay upfront, and if a ladyboy requests money before the meeting, politely decline and leave. ( It's probably better to lose 50 K or 70 K ($3). While it may be a common belief that hotels prohibit ladyboys or their GGs from entering guest rooms, this is, in fact, a fake idea. In my experience, hotels have been accommodating to ladyboy-client meetings, and I have never encountered any issues, particularly with ST hotels ST hotels, with their discreet "Khách Sạn" (Vietnamese for hotel) signage, are easily found, and prices for 1-2 hours are typically advertised.

Readers should be aware that the data provided in this post have not been updated since November 2020. Therefore, any conclusions drawn from this data may not reflect current circumstances. It is important to consider this when interpreting the information presented in this post. Hô Chi Minh City, also known as Saigon, is a popular destination for tourists, especially ladyboy mongers. Although Bangkok has a larger population and surface area, HCMC appears to be quite big, probably due to its lack of rapid transportation like the skytrain. However, this may change soon as two subway lines are expected to be operational in 2023, unless the project is delayed. One of the reasons why HCMC seems larger is that ladyboys in various fields can be found almost everywhere in the city. Same scale maps of Bangkok and HCMC I took me time to gather data provided by 163 ladyboys who were willing to meet their customers in specific areas of the city. Out of the 163 profiles, 64 did not provide any further information about their location other than "HCMC" or "Saigon". The remaining profiles gave either one or several districts. The 99 other profiles gave either one district or several districts. Locations appeared as follows. By calculating a "density index" of ladyboys per 100 square kilometers in each district, I found that the most densely populated area is district 10, followed by district 4, which is where ladyboys working in district 1 have accommodations. District 1 has the most possibilities for dating, but its number is lower if we don't count the ladyboys who add district 1 in their profile since they work there. Here is a map of "ladyboys density" of HCMC. Binh Thanh and Go Vap are also interesting districts to explore as there are several ladyboys living there who work or have worked in district 1. About 40% of the ladyboys didn't specify where they can meet, which means they are willing to travel to meet their customers but may increase their price, especially for foreigners. Edit 2023 : the above is no longer the most relevant. A new trend has emerged, whereby ladyboys are no longer staying in a single area but are willing to move throughout the entire city. However, let us refrain from anticipating the novelties of 2021 and 2022.

I never really checked GGs in Thai bars, but if I consider this comment is also valide for layboys, these are the hardest words I found to describe an evolution I had first noticed in 2015. The uglier, the more expensive. 555

excellent point. it's incredible when I go to Colombia and other Latin American destinations how fat people have gotten. US people have changed the shape of humans. However people in major urban centers where there is higher education.... please are generally in better shape.....NYC Miami LA SF. But in between its Big Gulp Time! I think the GGs in BKK are in better shape than the GGs in Pattaya.